Home
>> Transboundary Travel in China and Indochina
Transboundary Travel in China and Indochina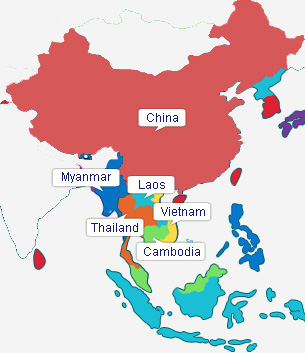 China has the most beautiful sightseeings while Indochina offers its very special cultural and natural beauties. You will not want to miss both of these two mysterious places if you got the chance to visit Asia. You'd like to see the grand Terracotta Army and Horses in Xi'an, and all the other great attractions China offers in Beijing, Guilin, Shanghai, Hong Kong and etc; you would also like to experience the legendary Angkor Wat in Cambodia, the amazing Ha Long Bay in Vietnam, those unique Buddhism pagodas scattering over the wide plains of Bagan in Myanmar, the Eastern Hawaii Pattaya in Thailand and the untouched Luang Prabang of Laos... You can not get the east of the world's most real and complete images until you travel crossing the borders of these countries.
In cultural and geographical perspective, China and Indochina share great similarities, for which nowadays more and more tourists tend to combine these two places in their trips. The uncertainty of economic situation leads to the slight depression of global travel market, thus the transboundary tours during those neighbouring countries will become the main trend of international travel.
Cultural and Historical Similarities
Viewing from culture and history, Indochina has a kind of compound culture because of the influence of China and India. As the high culture center in Asia's east places, China gradually disseminated its culture to the surrounding countries, by which the Eastern Cultural Center formed. Through hundreds of years' communication in culture and other aspects, you can find many similarities between China and Indochina, such as the customs, festivals, life habits, Buddhist architectures and etc, especially those national minorities in the neighbouring areas.
Large Period of Neighbour Areas
China's Guangxi and Yunnan Province share same mountains and rivers with the Indochina countries. Many mountains and rivers in China stretch all the way to Indochina, for example the Nu River in China becomes the upstream of Salween River in Myanmar, the upstream of Nan Chao River of Thailand is in Yunnan of China, China's Lantsang River flows into Myanmar, Laos, Thailand, Cambodia and Vietnam becoming the Mekong River, and the mountains of Indochina run south to north are actually the stretching of China's Hengduan Mountains.
China and Indochina share so many "ties of consanguinity" in culture. They have been closely tied together by their special history, geography and culture. Come and visit both China and Indochina, you will be extremely surprised by the incredibly beautiful and charming sites and get your once-in-a-life time experience to the ancient and mysterious east of the world.
Custom Tailoring: Design your own tour with our help to meet your unique interests. You don't have to compromise. Do exactly what you want to do! Let us assist you to tailor-make your own Indochina experience.